Specifications︰
Material: HDPE;
Color available: white and black are common, while some different colors are also available.
Construction: 380 denier with 2 plies for straight in weft direction while 1 ply for loops in warp direction.
Mesh size: 4.5mm x 8.5mm.
Weight: 68g/sqm.
Dimensions: maximum width 6 metres with no joint (20m to 30m with joints), and length from 100 metres to 500 metres.
UV: with best stabilizers and high level.
Life span: 10 years.
Product Image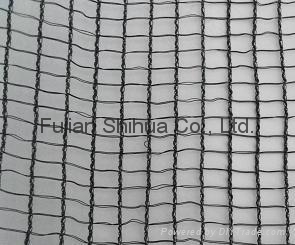 Hail Nets(Netting)